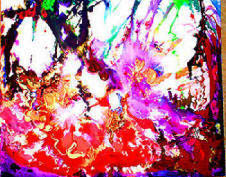 Brent Atwater creates Paintings for Bridging Heaven and Earth Art Show
The intention of the Bridging Heaven & Earth Art Project is to spread/enliven the vibration of Love–that is the Heart of the Project……
Brent Atwater, medical intuitive, energy healer and artist, created a four panel Paintings That Heal™ for our project, starting with Heaven and then connecting with Earth. The paintings were on exhibit in Santa Barbara, California December 4, 2005, and then traveled with the Art Project collection.
The Bridging Heaven & Earth art project is, simply: a world-wide energy amplifying process using art and the collective energies of many…..basically it is that each artist produces an all-new (so it is fresh, spontaneous and NOW) work of art (painting, sculpture, collage….anything that comes through them) based on the theme " Bridging Heaven & Earth "….the collective energies of so many unbelievable, creative, people, from all over the world thinking, meditating on, and manifesting "Bridging Heaven & Earth " will be huge……
The art was feature on the Bridging television show that was shown all over the U.S. and on the Internet…..Pieces were featured on the website and featured them in the Bridging newsletter….gallery openings, beautiful venues, and possibly a book of the "Bridging Heaven & Earth" art down the road…..it's open, inclusive, and infinite…..